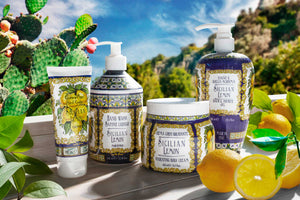 Take a look at the complete line enriched with Lemon essential oil
Beauty Istanbul
4th International Exhibition
Among the top 5 largest cosmetics exhibition in the world with 680 exhibitors from 59 countries and the most international cosmetics exhibition with 14017 professional visitors from 157 countries.
Visit us: STAND. 3D - 235
Come and meet us
Beautyworld Middle East
26th edition
The 26th edition of Beautyworld Middle East at the Dubai World Trade Centre, brings together the regional and international beauty industry to discover new trends, technologies and business opportunities.
Come and visit us: HALL 3 STAND B22
Come and meet us
Take a sensorial journey through the most beautiful italian cities with the Maioliche
maioliche
Ischia
The light air scented with salt will envelop your senses pervading you with a feeling of well-being. Walking in the moonlight along the port you will capture the magic of this unique and enchanted place. Going up through the paths you will arrive at unusual views, the air you will breathe will be pervaded by the scent of vines grown in that incredible area.
Find out more